As a painting contractor, you want your website to do two major jobs for you – get you found online and get potential customers to give you a call or fill out a form. Your website should be one of your major sources of lead generation.
In order to get you found online your website has to search well in Google search. In order for it to search well you need to practice the key principles of Search Engine Optimization or SEO.

Thankfully, SEO is not considered a mystical practice or a black box like it was 5-10 years ago. But there are still many common mistakes that are being made by painting contractors when it comes to their websites. We are going to highlight three of the biggest SEO mistakes for painting contractors and give you tips on how to recover from them.
SEO Mistake #1 – Setting it and forgetting it
We see a lot of websites that were probably built three to five years ago that have not been touched since. That's a significant mistake. Google likes freshness. They like to see that you are an active business. When you don't update your website that sends a signal to Google that you are not an actively operating business and it will absolutely hurt your search results.
Your website is not a destination or a one-time event, it is a journey. When did you last update your website?
If it's been more than six months, now is the time for an update. Take a look at your website and consider what you should update? Has something changed about the way you do business? Are you still offering the same services? Do you still have the same team?
Add updated photos to your website. Highlight big jobs you've completed and/or those that are different from the other photos you have on your website.
Finally, set yourself a reminder to post something new once a month going forward – new photos and at least one update to the content on your home page.
SEO Mistake #2 – Not having enough content
The number one factor Google is looking for when it comes to the organic search results is quality content. They want to provide the highest quality and most relevant results for their users. One of the ways they determine quality is by the amount of content and one of the ways they determine relevance is by keywords and closely-related keywords.
A one-page website is not going to cut it. Google wants you to demonstrate your expertise and it's pretty hard to do that with enough depth on one page. How many pages are on your website? If the answer is less than five, you definitely want to add more. Set a goal to reach 10 pages. Even if the answer is 10, you will likely be better served with 15-20.
Create a page for each of the different services you offer. Create interior and exterior house painting pages. If you've already got those, perhaps you can get even more specific with a kitchen or cabinet painting page.
It's important to remember that each page should include quality content that demonstrates your expertise. Adding five more pages with two sentences on them will not help. You want to create relevant content for somebody who is searching for those services. The more specific you can get the better your website will likely search.
Once you set your goal, create a schedule to help you reach it. If you have five pages and your goal is to get to 10 pages, give yourself a month to create each new page. In five months you will have reached your goal. Take a month off and then set a new goal.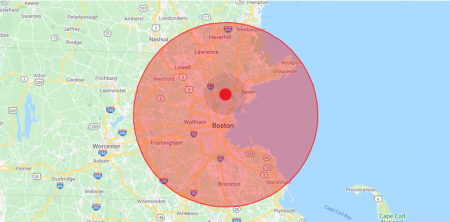 SEO Mistake #3 – Not highlighting areas served
Chances are good that you serve several cities and towns. Are you representing all of those cities and towns on your website?
We see far too many painting contractor websites where we've really got to work hard just to find one location they are serving. That's not good. The areas you serve should be one of the easiest things to find on your website.
When it comes to local business services (like painting), every search is a local search. If you are not sending signals to Google by including each of the cities and towns you serve on your website, then Google will never show your website in the search results for potential customers who are searching for a painting contractor in those cities and towns.
You need to include your target cities and towns multiple times in multiple places on your website. How do you do that well?
If the total number of cities and towns you serve is five or less, or you really want to highlight five or less, you could include them in the header of your website. You should include them in places that make sense in your content such as a list in your footer. You can create captions for your photos that include the location of the job. Ask your customers to include their city or town in their review, or you can append it on to the review along with their name and type of service.
Another great way to highlight the areas you serve is to create an individual page for each city and town. Try to make these pages as personalized to the city or town as possible. Mention landmarks. Include photos from jobs you've done in that city or town. Highlight the services that are most popular in that city or town.
In Conclusion
If you've made one, or even all, of these SEO mistakes it's not too late to recover. Just follow the recommendations above and stick with it. Don't try to eat the elephant in one bite. Break it up into accomplishable goals and take it on one bite-size piece at a time.
If you'd prefer to just hand your website and SEO over to somebody that you can trust to take care of it for you, call us at 919-424-6121 or email us at Team_PPW@ProPainterWebsites.com.