This past year was one of the toughest our country has had in a very long time.  Economic crises, health crises and political crises peaked at different points all across the country.
This chaos hasn't had the same effect on all businesses, but it has left some painting contractors hanging on by a thread.  While empty schools and businesses brought opportunity early in the crisis, residential painting was hit hard. Some homeowners didn't want to share space in their homes with contractors, and others were left without a job and a paycheck.  In either case, a fresh coat of house paint was not a priority for them.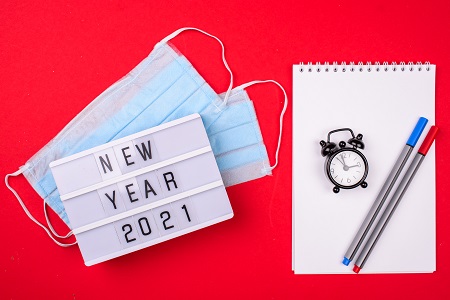 So far, 2021 is feeling a lot like 2020.  But by the end of the year, the pandemic's impact on daily life should fade significantly.  And despite all the news articles about how the world will be changed forever, most people will be thrilled to get back to the life they had before.
What does this mean for painting contractors' bottom lines?  It's unclear what this year will bring.  But change always brings new opportunities, even in normal years.  Here are three opportunities for contractors hoping to squeeze some positive news out of another year of uncertainty.
Business Office Layouts Will Change
There's plenty of talk about city workers moving hundreds or thousands of miles away to rural areas because they can work remotely.  That will probably take years to happen, if it happens at all. Most people won't move until they know remote work is acceptable over the long term.
But even after the pandemic, there will be more people working from home at least some of the time than there were before 2020.  That means that fewer people will be in the office each day.
Office complex owners might have difficulty renting out their largest spaces, and may need to split them into smaller offices.  Businesses in long-term leases will probably want to redesign their offices to make better use of the space they have. That might mean more videoconferencing rooms, more shared offices or even subletting some square footage.
These changes will require knocking down walls, and they'll need a paint job to pull everything back together when they're done.  Painters with commercial experience (or those who have relationships with the general contractors who win these jobs) may pick up some larger projects from this work.  Make sure to keep in touch with commercial real estate management companies in your area!
People Will Invest in Home Offices
The transition to work-from-home status happened quickly last spring.  People set up standing desks in living rooms or repurposed a kitchen corner so they could stay productive – and employed.  While that might have worked for a little while, it's not a home layout most people will want when they can start inviting friends and neighbors over again.
Once people learn that they can work from home more regularly, many people with a spare bedroom will choose to build a home office.  Having a room used exclusively for work is more convenient, more productive and potentially tax deductible.  For those who are repurposing what was once a specific-purpose room such as a kid's room or exercise room, a paint job may be in order.
If people are only repurposing a room (or two) for a home office, that's going to be a small job.  But those conversations can turn into something larger – and even if they don't, if they're happy with your work, you're likely to be their first call when they need an exterior repaint or decide to do a facelift on the whole interior months or years down the road.  For painters in need of work in the short term, these small jobs can fill empty schedules and create new sources for referrals as well.
Commercial Space Will Be Repurposed
The previous two opportunities came from positive developments.  But it's also an unfortunate fact that COVID has devastated not just businesses, but entire industries.
Some studios are releasing their movies directly to online streaming services this year, and it's an open question whether movie theaters will be a viable business going forward.
More than 110,000 restaurants have already closed permanently since the beginning of the pandemic, and some experts have predicted that number may more than double by the end of this year.
Many of the biggest and most well-known "anchor" retailers in the United States have gone bankrupt in the past year, threatening the entire business model for shopping malls.
If these industries fail (or shrink massively) they will leave millions of square feet of retail space vacant.  Building owners can't afford for that space to stay vacant forever, but they'll need to repurpose it if they want to attract new businesses.
Whatever ends up happening to this space over the next several years, you can bet that contractors – including painting contractors – will be needed to make repurposing it a reality.
To learn how ProPainter Websites can help you find new customers, call us at 919-424-6121 or email us at Team_PPW@ProPainterWebsites.com.