Facebook is a great tool to use to showcase projects and display important information for potential customers. But you only have five or six seconds to spark a potential customer's interest to learn more about your business. Over the last week, we've visited more than 100 painting contractor Facebook accounts. We saw a lot of great Facebook profiles and some that are just starting out. Wherever you fall on that scale, these three tips can help make your Facebook profile more effective.
#1 — Take High-Quality Photos and Post Them Frequently
The first thing painting contractors should be doing on Facebook is arguably one of the most important and it's posting high-quality photos to showcase their work. When a potential customer is shopping around for a painting contractor, they're looking to see that you've completed the job they're requesting. A variety of high-quality photos showcasing before, during and after jobs demonstrates exactly what a potential customer gets when they work with your team. Remember, high-quality and clean photos exhibit your professionalism to potential customers.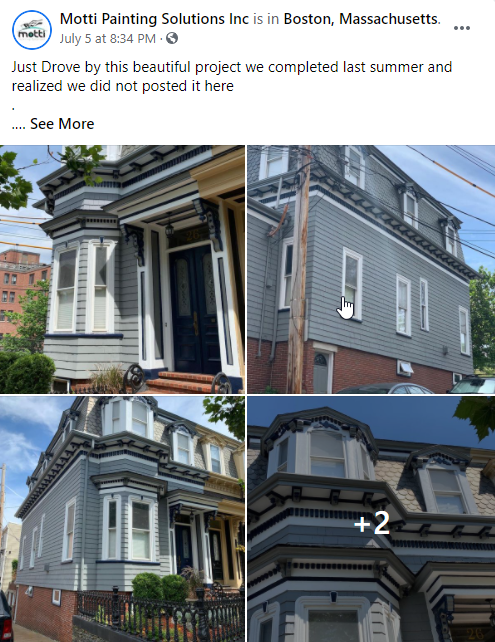 #2 — Set up Automated Messenger Responses
The second thing that we recommend that painting contractors should be doing on Facebook is creating automated messenger responses to answer frequently asked questions. This not only saves you time, but it also makes key information easily accessible for potential customers. The automated messenger responses are visible to potential customers as soon as they visit your Facebook page giving them answers to their questions instantly. If you find yourself consistently having to answer the same question from potential customers, add an automated messenger reply!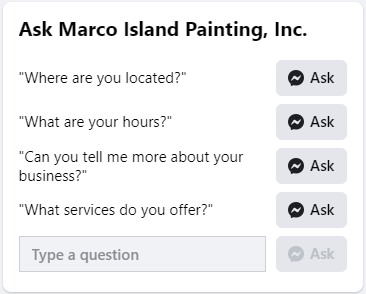 #3 — Fill Out the About Tab
The last tip we'll leave you with goes hand-in-hand with the second tip. Thoroughly fill out the about tab on your Facebook profile. Displaying your contact information on the front page of your profile makes contacting you easy. As a business, you want to make a potential customer's path to you as easy and clear as possible. Once you've filled out all the basic information, try adding keywords that include the areas you serve and your specialties to boost your search potential.
There are tons of tips out there for optimizing your Facebook profile. Don't get overwhelmed by it. Pick a few things and implement them. Small changes to your Facebook profile can add up to huge progress in helping you connect with potential customers.
Call us at 919-424-6121 or email us at Team_PPW@ProPainterWebsites.com to learn more about how ProPainter Websites can bring you more painting business!