Five Ways Customers Find Painting Contractors
December 16, 2020
"The best way to earn a customer's business is to think like one."
That's a lot harder than it sounds.  For instance, you know how to tell if a paint job is a good one – but do you know what customers look for?  They might not even be looking for the right things – but whatever they're looking for, you want to make sure you're doing it!
Here's a potentially tougher question:  where do customers go to find a painting contractor?  If there's one thing you probably haven't looked for recently, it's someone to paint your house.  But you've got to get into the customer's mind to know where to find them.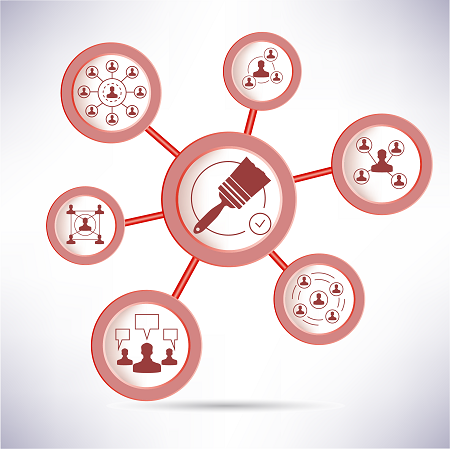 Or, you could just read this article!  Here are the five main places people go to find painters – along with advice on how to be the contractor they choose.
#1 – Friends, Family and Co-Workers
Word of mouth is still some of the best marketing out there, and it doesn't cost anything at all!  Any good marketer would tell you to always ask for referrals from happy customers after you're done painting their home.  But here's the problem: odds are, they don't know anyone who needs a painting contractor right then.
The key is to stay "front of mind" for your customers, so that when someone does ask them if they know a good painting contractor, they'll remember you.  This doesn't mean pestering them to death with referral requests.  You could send former customers an email a couple of times per year offering specials for them and their referrals only.  You could also ask with a mailed card – but make sure it's not a generic postcard ad!  Most people throw those away before they even look to see who they're from.
#2 – Google
This one is obvious.  When people want to find something, they Google it.  There are three ways to get on that first page, and there is intense competition for all three.
The first way is to buy ads from Google – and the odds are high that you will spend thousands of dollars before you make a return on your investment, if you ever do.  There are too many multi-million dollar companies paying handsomely for these spots, including the companies listed in #5.
The second way is to show up in the local pack – the small set of businesses that are nearby the person conducting the Google search.  You can't really control how close your business address is to someone's phone or computer.  But you can control whether you have a business address listed in Google My Business, and whether you have dozens of great Google reviews from previous customers.  (We're happy to help you with both of these!)
The third way to show up on Google is to have a great website – one that details the services you'll perform, has pictures to show your work, lists the specific areas you serve and makes it easy to get in contact with you.  Google's search algorithm AI "reads" each website's content to determine if people are likely to find value in the website, and only a small handful of them make it to the first page.  (We help with this, too!)
#3 – Social Media
Depending on who you ask, the average person spends from 30 minutes to more than an hour per day on Facebook.  People talk about all sorts of stuff on Facebook – including asking friends who they'd recommend for home services.
It's a great idea to be present on Facebook (or Instagram).  But it's not a great idea to only post coupons, specials and other advertisements on there.  Remember, people are using Facebook to laugh, learn or relax, but not to buy.  If you're providing painting tips, personality and humor on your Facebook account, people will interact with you, but if it's being used only as a sales tool, Facebook will keep your visibility very low and your followers will have already tuned you out anyway.
#4 – Nextdoor
Nextdoor is a website for communicating with other members of your neighborhood.  In less than 10 years, this site has gone from its first user to a major source of local business referrals across the country.  (It's also a great place to hear people complain about loud dogs, fast drivers and anything else that irritates them.)
Each Nextdoor member can only view posts made by people in their own community.  It's not really one social network – it's more than 270,000 private social networks across 11 countries including the United States.  So you won't be able to use a Nextdoor profile to reach anyone outside of your own neighborhood (although you can buy advertising outside of your community).
What you can do is to encourage happy customers to recommend you on Nextdoor if anyone is looking for a painter.  Just make sure that you also have great reviews on Google.  That's because people don't trust a referral from a "neighbor" they haven't met as much as they'd trust a referral from a family member or even a Facebook friend, and they're likely to check out your website and your online reviews before calling you.
#5 – Frenemies
There are plenty of sites that connect painters with customers – HomeAdvisor, Angie's List, Thumbtack, Porch, Houzz and more.  Each of them connect thousands of customers to service providers every day.  But they don't always do things in the best interests of painting contractors or of painting customers.
Like any company, they're trying to make a profit. The way they do that is to "vacuum up" as many leads as possible, and to sell them to painters.  They spend millions of dollars building world-class websites and buying Google ads to attract home services customers, taking some of the top search spots in Google results that would otherwise go to local painters.  Then they make even more money by selling those leads to contractors like yourself.
Most of these matching services don't guarantee that the leads they sell are good leads – nor do they guarantee that their leads will turn into customers.  Some contractors find ways to use these sites as a major source of profitable company growth, but a much higher percentage of contractors end up spending thousands of dollars on leads that don't go anywhere.  Just make sure you know what you're getting into before diving into these sites!
To learn how ProPainter Websites can help your painting contracting business earn more customers, call us at 919-424-6121 or email us at Team_PPW@ProPainterWebsites.com.