Hiring a Painting Employee?  Here's What Makes a Great One.
November 21, 2017
Did you know that the federal government keeps a detailed list of what it takes to perform nearly every job in the United States?  The US Department of Labor keeps detailed records on job requirements, and provides them to the public via the O*Net Site.  A detailed report on requirements for painters is available here.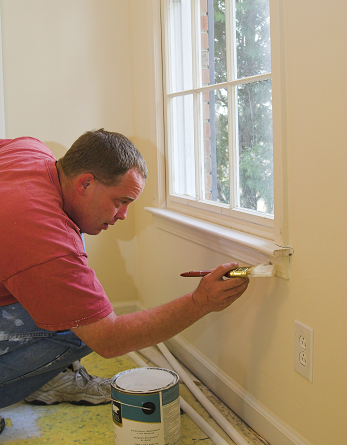 What does it take to be a good painter?  Some of these are obvious.  Arm-hand steadiness is listed as the most important ability of a painter, along with trunk strength and the ability to differentiate between colors.  But it takes more than the ability to apply a brush to a wall to make a great painter.  Here are a few stand-out requirements that you should consider if you're hiring a painting employee.
Getting Information – The most important work activity for a painter is getting information.  Painters that make assumptions about how to complete a job, what is okay to do inside of someone's house, and whether a person is satisfied with the work or not are going to cause you more problems than you'll ever be able to solve.  Great painters ask for all of the information they'll need ahead of time, so they aren't stuck without an answer or a way to reach the homeowner after the job is started.
Establishing and Maintaining Relationships – While painters do work alone on smaller jobs, the odds are high that they'll be working as part of a team at some point.  If they have trouble getting along with others, it's going to make everyone unhappy while they're working, which is going to reduce their work output and their job satisfaction.
Inspecting Equipment, Structures or Material – If you're used to working for yourself, it's possible to take for granted that you won't do anything that's unsafe.  But when you're hiring others, poor safety decisions can really do major damage to your company.  Unsafe decisions lead to unaffordable workers' compensation costs, painters that are out of work for days (or months), and can potentially expose you to lawsuits.  Make sure you hire people who understand safety and will make safe decisions!
To learn more about how ProPainter Websites can help you find great painters for your team, call us at 855-385-1134 or email us at Team_PPW@ProPainterWebsites.com.