Use Paint Job Photos to Earn More Business
January 11, 2019
Are you proud of your work? Most painting contractors are, but don't take the time to capture it. Once you're done with a job, you move quickly to the next.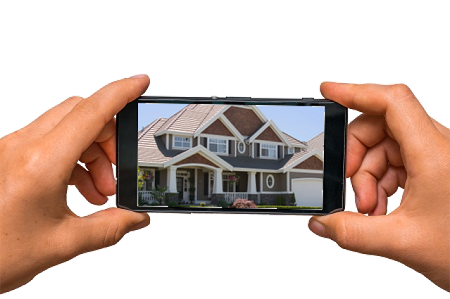 However, we live in a very visual world and by taking pictures of your work you can increase the likelihood of winning more higher-paying jobs. So, be sure to put photos of your best work on your website.   These pictures demonstrate the quality of work you perform to potential new customers, helping them to be more comfortable that you'll do a great job for them as well.
Many painting contractors don't take the split second to swipe a quick photo of a job well done because they don't think they're equipped. Get ready to be surprised by how easy it is to take a great photo!  There are three key points to make yourself stand out amongst competitors when taking pictures – the camera, the lighting, and the purpose.
Your Smartphone Is Your Camera!
If you've got a modern smartphone, the odds are high that you've got a pretty good camera.  You don't need a million-dollar camera to take a good photo – most smartphones have cameras that can easily take high-quality photos for your website, social media page, or even marketing flyers.
One of the biggest mistakes that you can make is not taking enough photos of each job.  It's free!  Take plenty of photos from different angles and pick the best. For the best results, take photos from a low angle, not straight on. Holding your cell phone near your abdomen to take the photo will create more depth, allowing intricate details to shine through.
The Sun Isn't Always Your Friend
When people think of the perfect exterior house picture, many imagine the sky being clear and the sun shining above their work – but cloudy days are your friend. Cloud cover removes shadows from nearby trees and powerlines that would take attention away from the home.
Understandably, the sky won't always be cloudy, and that's okay. Using the sun's natural rays can produce beautiful photos as well. The important thing to remember is to work with the sun, not to compete against it.
One of the most opportune times of the day for pictures is when the sun starts to set and the light from the outside balances the lights in the interior of the home – creating a warm feel to the photo. Natural light can play an important role in how your photos turn out.
Leave Out the Ugly
Now imagine this – you're standing outside a 2,200 square foot home you just finished, and it looks good, really good. Unfortunately, the neighbor's junky car is sitting out on the street accompanied by strings of power lines routing their way through your perfectly good photo opportunity. What do you do? You move.
Simplicity is better. It will create an eye-catching photo when unnecessary objects such as telephone poles, bulky mailboxes, and dumpsters are avoided. When you're ready to snap a quick photo, think to yourself, 'What do people want to see when they look at this photo?' and go for the big picture – the home.
The three key things you need to differentiate yourself from your competitors are tools you already have. Take a moment to snap a picture with your phone, use the natural light, and avoid distracting objects in your photo, if possible. If you're proud of your work, show it off!  Your business counts on it.
To learn how ProPainter Websites can help you earn more business, call us at 866-665-1605 or email us at Team_PPW@ProPainterWebsites.com.