The Perfect Marketing Balance for a Painting Contractor
July 11, 2018
There are many ways to market your paint company, and you're likely to use several of them to build your customer base.  But whether you're preparing to put together a direct mail campaign, having a website built for your company, or getting yard signs made, there are three factors that you have to balance to make the biggest possible impact.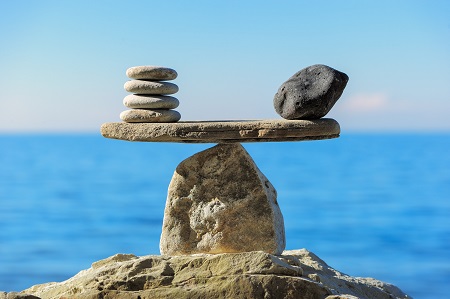 #1 – Price
Marketing is expensive, but some types of marketing are prohibitively expensive.  If you're planning to target a big section of town with a postcard, it can easily cost thousands of dollars.  If you're paying money for every lead on a site like HomeAdvisor, it can also quickly eat through thousands of dollars.  Before you jump into these commitments, figure out how much in profit you make from each paint job, and ask yourself how many jobs you would have to get from this marketing to even pay back the marketing cost.  Are you likely to get several times more leads than this?  If not, it probably doesn't make sense unless you're willing to lose money in the short term in order to get a brand new business off the ground.
#2 – Effectiveness
Just because marketing is cheap doesn't mean it's cost-effective.  Purchasing an ad in a rarely-read local magazine isn't going to get the phone ringing off the hook.  The same goes for purchasing online ads for painting-related phrases that people rarely search for.  If you're going to take the time and money to invest in marketing, it needs to yield a measurable result.  If not, you're better off taking that time and dedicating it to in-person marketing, which costs little more than the flyer or card you're handing out or dropping off.
#3 – Impression
The way your marketing looks sets people's expectation of price and quality.  If your flyers are simply designed and printed out on a home computer, or your website has only one page of information, potential customers expect a lower caliber of service – and a lower price to match.  As a result, the high-paying customers won't contact you, and your leads will expect you to be willing to haggle over prices.
On the other hand, if your flyers have pictures of very expensive houses and are a very thick grade of cardstock paper, customers will assume you have excellent service, and prices to match.  This can be great for business if you're marketing in high-end neighborhoods, but others may be turned off by what they expect to be inflated prices and may not give you a call.
This is why it's important to present a balanced look – one that identifies your business as professional and attentive to detail, but not aimed exclusively at high-end customers (unless, of course, you are).  For most businesses, getting this right requires at least some input from a marketing expert.
To learn how ProPainter Websites can help you make a great first impression with an affordable, effective website, give us a call at 919-385-1134 or email us at Team_PPW@ProPainterWebsites.com.