Three Things Painting Contractors Should Be Doing on Facebook
July 24, 2020
Utilizing Facebook as a powerful tool for showcasing projects and presenting essential information to potential customers is crucial for painting contractors. However, with just five or six seconds to capture a potential customer's interest, it's essential to make your Facebook profile as effective as possible. After reviewing over 100 painting contractor Facebook accounts, we've gathered three valuable tips to enhance your profile to make Facebook the key to how to get painting jobs.
Showcase High-Quality Photos Regularly
One of the most crucial steps for painting contractors on Facebook is to consistently post high-quality photos that highlight their work. When potential customers are in search of a reliable contractor, they seek evidence of completed projects similar to their requirements. By sharing a diverse array of high-quality photos depicting the "before," "during," and "after" stages of jobs, you provide a clear picture of your team's capabilities. Remember, well-presented and clean images reflect professionalism and help build trust with potential customers. Take our client, Motti Painting Solutions for a great example!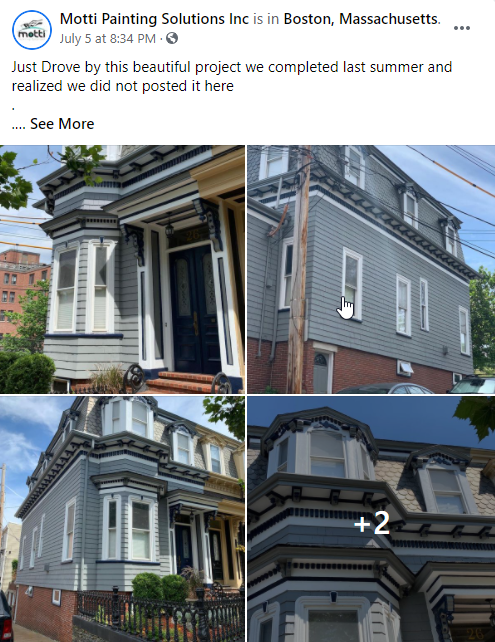 Implement Automated Messenger Responses
Creating automated messenger responses is the second essential aspect for painting contractors on Facebook. These responses can address frequently asked questions, saving you time and providing immediate information to potential customers. As soon as visitors land on your Facebook page, they are greeted with these automated messages, which offer quick answers to their queries. If you find yourself repetitively responding to the same questions from prospects, set up an automated messenger reply to streamline the process.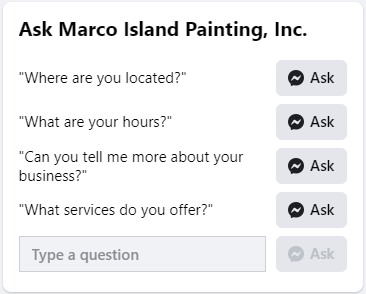 Complete Your About Tab Thoroughly
The last tip is closely related to the second one. It's vital to fill out your Facebook profile's About tab comprehensively. By displaying your contact information prominently, you make it effortless for potential customers to reach out to you. Simplifying their path to contact you demonstrates your commitment to excellent customer service. After providing the necessary basic details, consider incorporating relevant keywords that describe the areas you serve and your specialties. This will boost your search potential and attract clients searching for painting services in your specific niche.
While there are numerous tips available for optimizing your Facebook profile, don't feel overwhelmed. Focus on implementing a few key strategies at a time. Even small changes can lead to significant progress in connecting with potential customers and growing your business.
In conclusion, by regularly posting high-quality project photos, setting up automated messenger responses, and thoroughly filling out your About tab, you'll enhance your Facebook profile's effectiveness as a painting contractor. Embrace these tips and watch as your online presence attracts more customers and boosts your business success.
See how Painter Websites can take your business to the next level!