Trying to Hire or Retain Great Painters? All It Takes Is a Ladder.
May 11, 2018
If you're trying to hire almost any type of employee right now, it's a tough market.  The unemployment rate is the lowest it's been since 2000, and the weekly jobless claims are the lowest they've been since 1969.  It's even harder to hire in the trades, where fewer and fewer people are seeking employment.  With all of this bad news, how do you go about recruiting and keeping great employees?
Of course, the most important part is to advertise, so people know you're hiring at all.  Post jobs online or in paint stores.  Ask people in the community if they know of anyone looking for a job.  ProPainter Websites also offers a tool to screen out unqualified painters and forward the best candidates to you for an interview.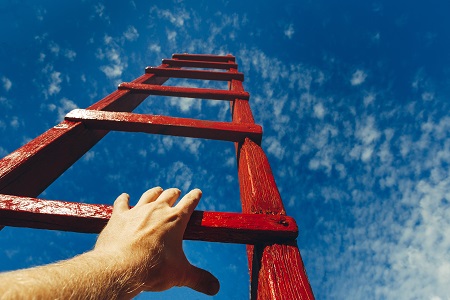 Once you have their attention, however, you need to work to keep it.  One great way to do this is to offer them a ladder – a job ladder.  "Green" painters start at the bottom of the ladder, with a relatively low base pay.  As they accomplish more and stay with the company longer they gain access to perks based on their output.  For instance, painters who complete a certain amount of weekly or monthly work earn a higher wage per hour.  Those who can lead painting teams to complete work successfully also earn a higher wage.
One great way to help your longest-serving employees is to provide them with monthly bonus during the off-season to compensate for the lack of work.  Of course, this still needs to be profitable for your company – this money would accrue during the peak season, and you'd pay it out to them later in the year.  Once they become accustomed to this benefit it will be extremely difficult to leave it behind and move to another painting company. It's a great retention perk.
Whatever benefits you offer on your job ladder, make sure that it entices your best, longest-tenured employees to stay with your company.  The more qualified someone becomes, the more enticing the financial offers from other companies will be!
To learn how ProPainter Websites can help your company succeed, call us at 855-485-1134 or email us at Team_PPW@ProPainterWebsites.com.