What is NextDoor? (And How Do You Use It to Boost Your Painting Business?)
September 17, 2019
Have you heard of NextDoor?  It's a private social network for neighborhood communities. It's not an endless "feed" of selfies, beach pictures and political opinions like Facebook. Every member is verified, and neighborhood members can view the conversations only within their neighborhood. 
There are more than 236,000 neighborhoods on NextDoor, and each of those neighborhoods has a minimum of 10 or more members; some have hundreds.  The odds are good that there's a neighborhood using NextDoor near you.
If that sounds like a good, free opportunity to get more customers, it is.  That doesn't mean you can post about your painting services on NextDoor however.  NextDoor doesn't want their community forums to turn into the classifieds section, so they don't allow businesses to post about services.  They also make money by selling advertisements, so they don't want to let businesses do it for free.
What you can do instead is ask your happy customers to think of you the next time they use NextDoor.  Many people ask about their neighbors' experiences with local providers on NextDoor before they select one.  In fact, asking for local business recommendations is one of the most popular ways to use NextDoor.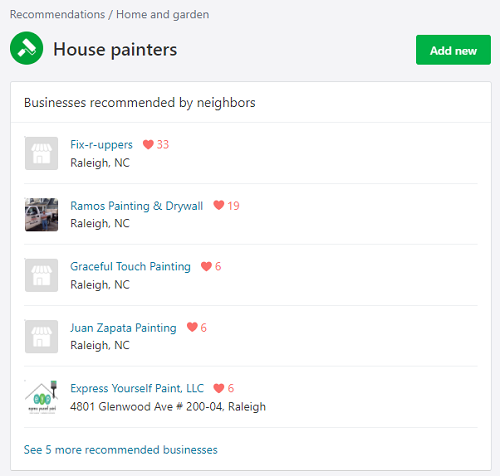 The opinions aren't only subjective, either.  Each category (including "House Painters") has a list of service providers, ranked by how many votes they've received, along with previous conversations between neighborhood members discussing house painting providers.  Providers near the top of this list are likely to receive many calls from an active NextDoor community.  This is how one happy customer can turn into many customers in the same area.
So the next time you're at the home of a thrilled customer, don't just ask if you can put a sign in their yard.  Ask if they'd be willing to recommend you to friends and neighbors – including on NextDoor!
To learn how ProPainting Websites can help your business generate more business, call us at 919-424-6121 or email us at Team_PPW@ProPainterWebsites.com.