Why Facebook Is a Bad Substitute for a Website
October 29, 2021
We have heard several painting contractors tell us, "We don't need a website, we are on Facebook." If you have all the business you'll ever need from current customers, don't need to build any more business relationships AND have gotten all of your customers to follow you on Facebook, then that statement might be true.
That's not to say that Facebook can't be a valuable tool. It certainly can be. But, for the vast majority of painting contractors a Facebook profile will be a very poor substitute for a website. Here's why: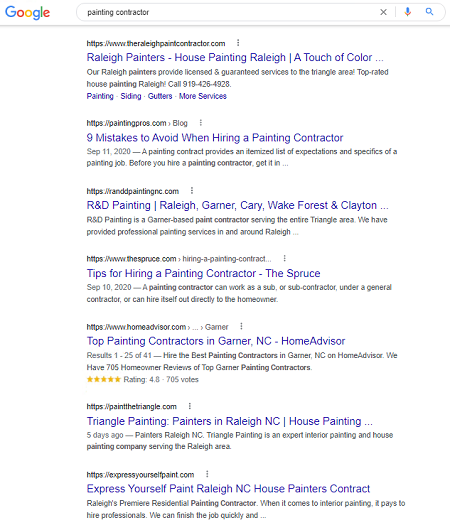 People use Google to find local businesses
According to a late 2020 survey from BrightLocal, 93% of consumers use the internet to find local businesses. The first place people go when they want to find those local businesses is Google…by a very wide margin. And a website is going to give you the best chance to be found on Google by those potential customers. That's because they are used to typing the name of the service they want into the search bar and then combing through the organic search results to look at the websites of the options they want to consider.
The story is very different on Facebook. Unless somebody specifically searches for your painting business by name, the only place you'll be seen on Facebook is in the news feed of people who already follow you when you make posts. So, you are significantly limiting your audience by trying to substitute a Facebook profile for a website.
Facebook determines what posts are seen in news feeds and it doesn't like to show business posts
Facebook has an algorithm that determines what posts a user will see in their news feed. Their goal is to give the user more of what they want so that they will stay on Facebook as long as possible. Because people interact more with posts from friends and family, Facebook is more likely to show those posts (plus ads!) than they are the posts that are coming from your business.
And you are posting, right? Remember, your only chance to be seen is by posting frequently. Contrast that with a website for which you do want to make small updates fairly regularly (like adding new photos one or two times a month) but certainly don't have to remember to post every day or every other day.
People expect credible businesses to have a website
Right or wrong, perception is reality. While consumers may be willing to buy a t-shirt directly from Instagram, they expect more from a business that is going to have employees spending time in their home. Credibility is extremely important for home services businesses. Your website can provide that credibility.
When consumers can't find a website for a business, they are going to think twice about calling them. They'll question the credibility. "Is it new? Is it a fly-by-night operation? Can I trust them?" You don't want potential customers asking those questions about your business.
You control your website, Facebook controls Facebook
Whether you build and manage your own website, or you work with a service provider like us, you get to make the decisions on the images, content, design, etc. You have a very high level of control over the messages and pictures people see when they go to your website.
On Facebook you are at the whims of what Facebook wants to do. Just like they control their users' news feeds, they control what you are able to do with your profile. So, while you may like the "control" you feel you have over your Facebook profile today, that could change tomorrow.
While Facebook is a good forum for engaging customers and building your brand, a Facebook profile does not provide the benefits a website does when it comes to attracting new customers and building credibility. In addition, Facebook is in complete control. What you like most about the platform today could be gone tomorrow.
Need a website? We can help! Call us today at 919-424-6121 or email us at Team_PPW@ProPainterWebsites.com to learn more about how ProPainter Websites can bring you more painting business!