Why a Website Is a Must-Have for Painting Contractors in 2020
August 25, 2020
The internet has changed a lot in the last 20 years.  Back then, businesses tried to get an easy-to-remember web address so their customers would remember it.  The Yellow Pages bought Business.com for $345 million in 2007 – and then went bankrupt two years later.
These days, nobody goes to Business.com, or Pets.com or eToys.com or Go.com (they all went bankrupt, too).  When someone wants to find something, they go to Google and ask about it.
People search the web for local services
Finding a local painting contractor isn't any different. When people want to have their house painted, they go to Google and type in what they're looking for.  It could be "painters near me", "exterior paint job", "house painter" or many other phrases.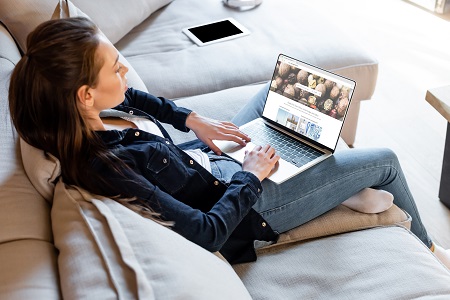 Your potential customers are doing this now more than ever. More than 46% of all searches on Google are local searches and 76% of all local searches result in a phone call.
People click on organic search results
The first page of Google search results from one of these queries only lists a handful of painting contractors.  The first few businesses who show up pay for ads – those are expensive, and nearly everyone skips the ads anyway.  The next few links to painting businesses are in the Local Pack – that grouping of three that you'll find under the map. The Local Pack gets just about 33% of all clicks on the page. That's significant, and more on that in a moment.
Finally, there are ten recommended links otherwise known as the organic search results. Importantly – 50% of all clicks happen here. Many of those links aren't even to painting companies – they're to places like Yelp, HomeAdvisor and Angieslist (which charge for every lead they provide).  On average only six or seven painting contractors show up on that first page of results, but it pays significantly if you can do it.
Google uses a website to prove credibility
A Google My Business profile is an absolute must for every painting contractor. If you don't have one, do yourself a favor and stop reading this right now and go set one up.
But Google wants multiple signals that a business is legitimate and time and time again Google uses the website of the business to prove it's credibility because if a business has taken the time and money to invest in a website then it's more than a fleeting enterprise. Your website and your GMB profile will work hand and hand to drive your credibility in Google's eyes. This results in a higher likelihood of placement in the Local Pack.
People use a website to prove credibility
Your potential customers also want proof that your business is legitimate and will be a good fit for the job they have available. They may get a referral from a friend, Facebook, Nextdoor, Instagram…but do you know where they will almost always go to verify you'll be a good fit for them? Your website.
Potential customers want to see how professional your business appears. They want to see photos of jobs similar to theirs. They want to read testimonials from happy customers.
Painting contractors need professional websites
Having a professional website for your painting business helps with all of this.  It is the one thing that you fully "own" online. You decide what gets posted on your website. You don't have to worry about somebody posting a review or something else on your profile. It gives you a place to talk about all of the services you provide.  It helps you demonstrate your skill, professionalism and credibility. And of course, your website gives you the opportunity to earn those 50%+ of active clicks from potential customers on the organic search results.
As mentioned above, a website will increase your likelihood of appearing in the local pack. It will also allow you to link your Facebook, GMB profiles, and other online profiles like social media or industry platforms. This ties everything together to demonstrate to Google that your business is active online. That is another factor that Google uses for the local pack and organic search results.
So when it comes to finding something online in 2020, the customers you're trying to get are going to start at Google.  But many of them are going to end up exactly where they ended up in 2000 – on your website.  And if you don't have one, that large number (and increasing) of potential customers who are searching for a painting contractor online probably won't find your business at all.
To learn how ProPainter Websites can help get your painting business found online, call us at 919-424-6121 or email us at Team_PPW@ProPainterWebsites.com.