Earning Painting Leads from Other Professionals
June 18, 2019
Are you looking for more painting jobs?  One excellent source lives right in your community!
There are plenty of other professionals that interact with homeowners in need of repairs.  Some examples include real estate agents, remediation specialists, and insurance agents.  These professionals are excellent sources for painting leads, and it's worth your time to introduce yourself to local professionals in these fields.  There's only one opportunity for a first impression, however, so here are some suggestions to make a great one!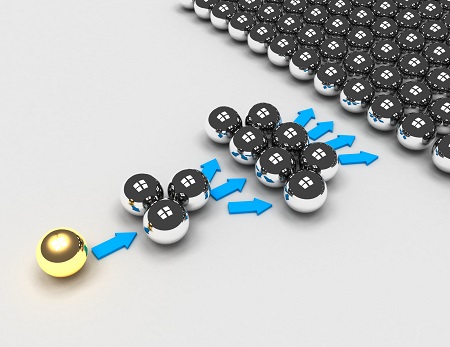 Before you call, ask yourself "For what type of paint job am I the best painter in the area?"  Maybe you specialize in fine painting around moulding. Maybe you also do drywall work, or have experience dealing with wood rot. Maybe you're willing to work on weekends, or you're extremely professional and people trust you in their homes.  Whatever makes you stand out from other painters in the area, make sure you emphasize that – because in order to get their referrals, you'll need to be their best resource, not just a good one.
When you approach other professionals in housing-related industries, make sure you have some great pictures of previous work and a couple of references.  If you need any permits or insurance in your state, make sure you provide proof of that as well.  It would also help if you have some great online reviews.  If they have an office, stop by their office after you talk with them, and drop that information off in a folder.  Most people will do a little research before they recommend anyone to their customers, and the easier you make that for them, the more likely they'll use what you provide them instead of what they can dig up from the internet or their professional network.
When another professional makes a recommendation to one of their clients, the quality of that business's work reflects on them.  If your work is subpar, that client might get rid of you and them. When you have a conversation with a professional you are hoping to get a recommendation from, let them know you understand this; it will probably make them more comfortable recommending you.
Because your work is their reputation after they recommend you, they'll stop recommending you as soon as one project goes haywire.  That might lead to some situations where you do need to prioritize their clients.
When other professionals recommend a painter to a client for a painting job, they'll provide a little background about that painter.  Whatever promises you make to the other professional may be passed along to their client, so be prepared to do what you promise for each of their clients!
To learn how ProPainter Websites can help you gain more painting customers, call us at 855-385-1134 or email us at Team_PPW@ProPainterWebsites.com.