How Your Potential Customers Read Reviews and What They Do After Reading Them
November 22, 2022
We have not been shy about emphasizing the value of customer reviews. The recently released Impact of Local Business Reviews on Consumer Behavior report by Moz features a survey they had conducted with 1,300 people in September 2022 that sheds even more light on the impact of reviews. This will be the first of two blogs in which we will highlight the pieces of the survey that we think are most important to painting contractors.
First, here are some of the major points which mostly reinforce previous findings:
96% of consumers read online reviews
56% of consumers read online reviews at least weekly
36% said the star rating matters most to them when looking at reviews
28% said the written content of the review matters most
17% said recency of the reviews matters most
It's safe to say that almost all of your customers and potential customers are reading online reviews for your business. What's most interesting to me about these five data points is that 28 percent said the written content of the reviews matters most to them. That goes to show that when you can you absolutely want to encourage happy customers to write a review that includes details of the services you provided and the customer service they experienced.
The rest of the questions we'll cover in this blog are very valuable questions about how people look at reviews that I've either never seen asked or haven't seen asked in this specific way.
How many positive reviews do you normally read before deciding a business is worth a try?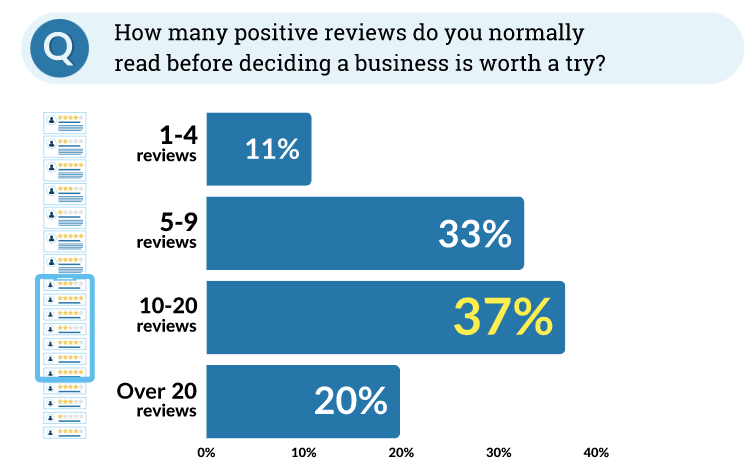 Wow! I would never have thought that 57 percent of people want to read 10 or more positive reviews for a business before they are willing to give it a try. I see many painting contractor Google Business Profiles that don't even have 10 reviews total.
How many reviews do you have for your business? If it's less than 20 you should definitely put some urgency into your efforts to ask happy customers for reviews.
Who do you trust more, the business or customers?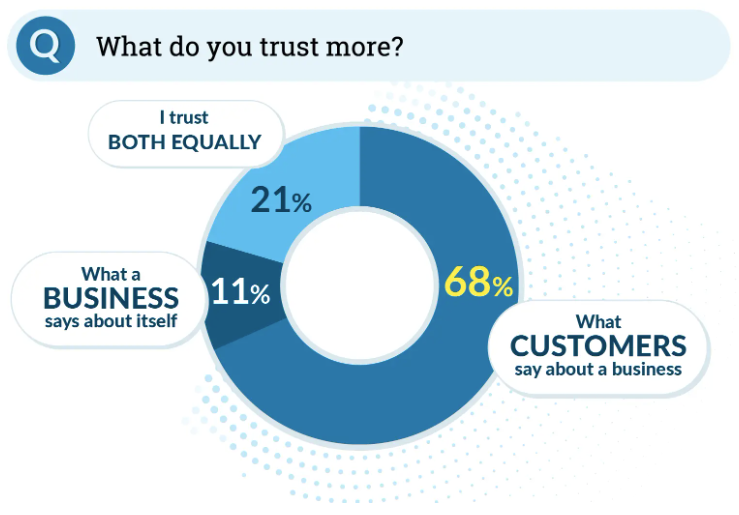 This is not a surprising number, but I have not seen this asked so directly in such a high quality survey before. Think of it this way – 1 in 3 potential customers are going to trust what you say while the other 2 are going to put much more stock in what your customers say about the business. And of course, where do they most often go to find that information – reviews.
After reading enough positive reviews to be interested in a business, what do you most often do next?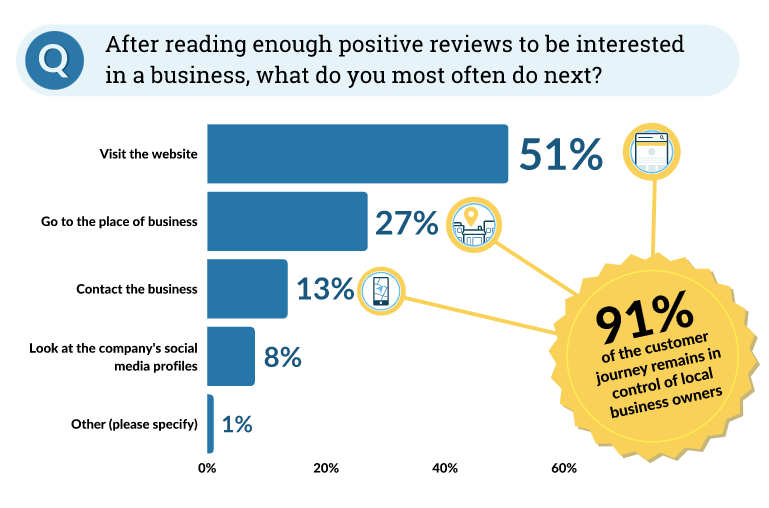 As a painting contractor you may not have a "place of business" for the potential customer to go to. But that's okay, that 27% will probably be split between visiting the website and direct contact.
The website point is important. Potential customers want to see additional proof of a business's credibility and having that website can play a significant role in providing the proof.
Apart from visiting review sites, what else do you do to understand a business' reputation?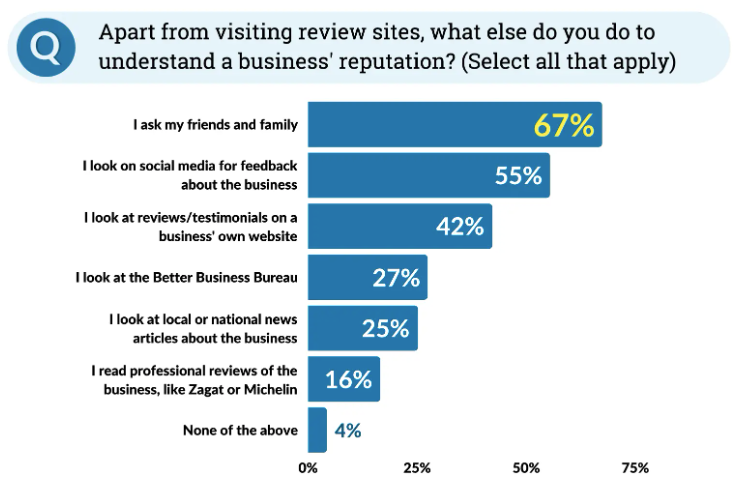 It's no surprise that consumers ask their friends and family about a business. But look at how close the second and third most popular choices are. Looking on social media for feedback about the business is only 12 points lower than asking friends and family. Looking at reviews/testimonials on a business's own website is a little further behind than asking family and friends but it's still relatively close to 50 percent.
So, while people are still turning to friends and family, they are also looking for additional social proof on social media and your website. We will often talk to painting contractors who take for granted the opportunity to include reviews/testimonials on their website. They will say that those reviews don't really matter on a website. But as you can see here, they absolutely do matter.
If you are not currently asking consistently for reviews from happy customers I hope seeing this data will convince you that it is really important to do so. If you are in a market where the competition doesn't have a lot of reviews you can very quickly get a huge competitive advantage on them by building up your reviews. On The Sharp Edge Podcast we highlighted how to ask for Google reviews and what to ask for.
A massive thank you goes out to Moz for commissioning this survey and producing this report that can help so many small businesses make good decisions about how they approach reviews and marketing. They also created the cool graph images featured above.
Our Integrated Reviews platform helps our customers get more online reviews. To learn how we can help do that for your painting business, call us at 919-424-6121 or schedule a meeting with us at a time that's convenient for you!