The Importance of Mobile-Friendly Websites for Painters
July 12, 2017
Did you know that more searches happen from a mobile device than a desktop or laptop computer?  More than half of people in the US search for a local business online at least once a month. Around 60% of those searches are happening on mobile phones and tablets, demonstrating the critical importance of mobile-friendly websites for painters.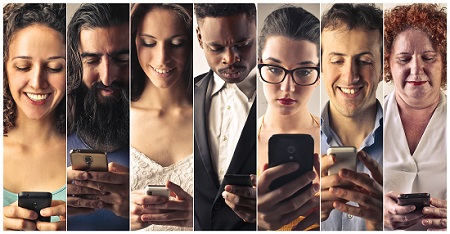 If your website was not built in the past few years, beware. Older websites may not display correctly on a phone.  The text may be tiny, or it may not fit on the screen at all.  The page list may not be easily clickable on a phone, and people may never leave the homepage.
Customers only spend about seven seconds on a website before they decide whether it's worth their time to continue reading it. Any challenges they encounter when looking at your site on their phone or tablet will make it much more likely that they'll close the site and go to the next website that Google returns for their search.
How can you keep these customers on your site?  Mobile-friendly websites for painters should provide exactly what people want when they're using a mobile phone for search.  They want to know if you provide the service they need, and that you serve their area.  Once they know these things, the most important item for them is the phone number, so they can call you.  That's exactly what you want them to do, too!
Is your phone number displayed prominently on your mobile website?  When people tap that number on a phone, does it call you?  If not, call your website provider and tell them that you want a mobile friendly site.  Or, better yet, call us!  ProPainter Websites is focused on getting results for painters, and we know what it takes to make a painting website successful. 
Call us at 855.385.1134 or email TeamPPW@ProPainterWebsites.com to learn more about how we can get your painting company more business.